Produce: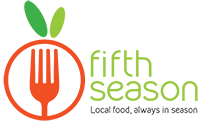 We are equally excited to team up with Fifth Season Cooperative to provide local produce options year round!

The Fifth Season Cooperative is a multi-stakeholder cooperative made up of producers, producer groups, food processors, distributors, and buyers from the Driftless Region. Their members represent all of the key players in the food system at the local level. Their goal is to build a cheap robust regional food system that supports a healthy environment, a strong economy, and thriving communities.
Local fruits and vegetables abound during the summer and fall in Wisconsin.  You will find an endless array available for your events.  Surprisingly, even in the middle of winter in Wisconsin, there are fresh local produce options available- including: brussel sprouts, daikon radish, carrots, green live kale, turnips, parsnips and other root vegetables.
Please contact us at Blue Plate Catering to see how you can incorporate local produce into your next catering event!
To find out more about Fifth Season Coopeartive visit their website at www.fifthseasoncoop.com