Make your day Blue Plate Special.
Have a question? We're here for you! If you would like to start planning your own event, click on the "Plan" page to the left and fill out the form to get started!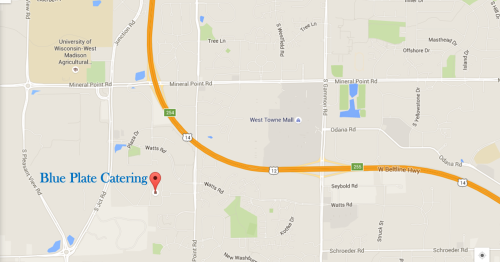 Main Office:
For appointments
706 South High Point Rd. Suite 40
Madison, WI 53719
Get Directions ›
*PLEASE NOTE: Blue Plate Catering is located in the Bishop O'Connor Center (BOC) facility. Upon arrival at 702 S. High Point Rd., please go up the main driveway toward the BOC, then take the circle toward the left side of the building. Turn right where you see a sign for Blue Plate Catering. Please enter our office through the double doors below the Blue Plate Catering sign and then to the right.
Contact Us:
(608) 827-7200
contact@blueplatecatering.com
Mailing Address:
8401 Greenway Blvd.
Middleton, WI 53562
Feedback:
Your feedback is important to us. Tell us what you think about our website, about our events, or anything else. Attended a Blue Plate event recently? Your comments help us to serve you better.
Share Your Experience With Us ›
Work for the best:
Fill out this job application and email or mail it back to be considered for open positions with Blue Plate Catering.
BPC Application